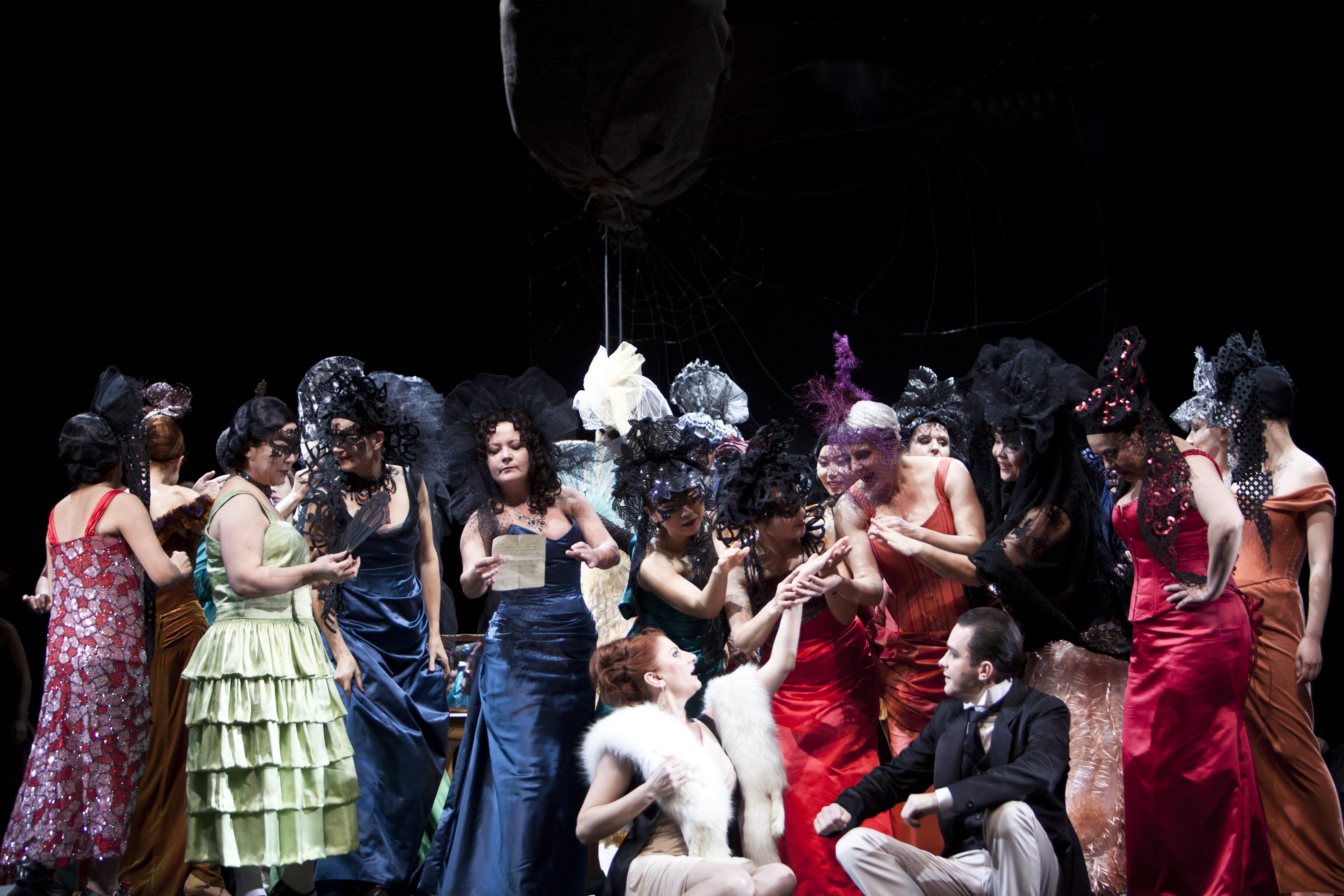 Last Wednesday Benjamin Bernheim gave his house debut at the Staatsoper Unter den Linden with Alfredo Germont in »La traviata« staged by Dieter Dorn. A few days before we met the French tenor and he told us about the challenges of the part Alfredo, his impression of Berlin as a city and about the moment when he fell in love with the stage.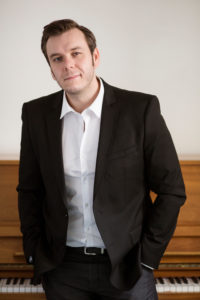 What is special about the production of »La traviata« here at the Staatsoper Berlin?
I really like the fact that there is a lot of abstraction. Alfredo and Violetta are on this round platform on the middle of the stage the entire time. It feels like there is some kind of bubble of intimacy between them. This works very well for the characters and I think that this creates a remarkable image of them being enclosed in a room where they can evolve as a couple and develop their love.
What kind of person is Alfredo Germont? What attracts you about the role?
It is a special role because Alfredo is very socially awkward but at the same time he is very pure. He is obsessed with this woman, Violetta, that does not even know him. When playing this role you have to put yourself in the character of a very young person, maybe even a teenager, who is in love with a huge star. I think Alfredo is the teenage version of someone who is in love – very innocent and very inexperienced. This is my vision of him.
»It really depends on who you are working with«
You have sung the role of Alfredo at the Deutsche Oper Berlin at the beginning of this season – did your approach to the role change since then?
I think I have the same approach about how I feel the notes and how I feel the music, but of course the colleagues and also the interpretation of »La traviata« here at Staatsoper Berlin is different, which allows me to develop a new idea and a new colour of Alfredo. I think it really depends on who you are working with. It was the same thing with Rodolfo – a part I sang a lot before. It is the same role, the same work and the same phrases but we of course are all different and different people bring different feelings and thoughts. So now Ailyn Pérez – who I know very well – and I are developing our couple of Violetta and Alfredo together. I think that this is the magic that you cannot prepare for until you are on stage and you sing with your colleague.
What are the challenges of the part of Alfredo, for example musically?
The role of Alfredo is very well balanced because there are a lot of breaks between the numbers and it is convenient for the voice. For Violetta it is much more challenging in terms of vocal performance. The most beautiful parts in the opera are the moments when Alfredo is alone with her, when he is telling her his love for her. And in the end when he says that they will leave Paris and that he will do everything for her health, this is a very intimate moment. You have to focus on your feelings rather than on your technique. These are very emotional moments and they need to be very, very sensitive.
»I really need to feel this proximity, to feel this danger,
to feel this magic between two characters«
Is this something that is easy for you and that you like especially when you are on stage?
I think as opera singers we have to be committed to what we are doing. We fall in love maybe fifty or sixty times a year while being on stage, playing with our hearts and playing with our feelings. We have to be very solid and of course we have to enjoy what we are doing on stage. If you are not committed to really falling in love with Violetta three days in a row, well, for me it does not work. I really need to feel this proximity, to feel this danger, to feel this magic between two characters instead of being emotionally cold and just being a technician. It is a huge pleasure for me to explore all the colours and shades of my voice with roles like Alfredo, like Rodolfo, like Lenskij, Romeo or Faust.
With Alfredo you are giving your debut at the Staatsoper Unter den Linden. What is your impression so far? How do you like the atmosphere?
I love it! The quality of work is really impressive and the acoustic of the house is ideal. The opera house has a good size which means that there is a connection between the audience and the people on stage. When houses are bigger the distance between the audience and singers is also bigger and there is a risk that the connection gets cut. I am especially happy to be here at the Staatsoper Berlin in the year of the reopening because it makes me feel that I am a part of this historical event.
How do you like Berlin as a city?
Compared to Berlin Geneva and Zurich – the cities where I lived besides Paris – are very small. What I like about Berlin is that it is so fast, it is so big and there are so many things to do – I count on recommendations from my colleagues and friends who know the city. I went to many different places so far, for example to the Brandenburger Tor, I have been to the Zoo, to the big parks and I really enjoyed it. It is a really big city with a big mix of population, the food is obviously amazing, you have all possibilities. Of course I am here for work and not for holiday, so I focus on working and I try – when I have a bit of time – to enjoy the streets, enjoy the atmosphere. I hope that I will come back to Berlin many times so that I can discover more of the city.
»The music was absolutely dazzling, something completely new for me«
How did you develop the wish to become an opera singer?
The first time I really fell in love with the stage, I was at the Grand Theatre in Geneva and I was eleven. I was in the children's choir for »Cavalleria Rusticana i pagliacci« and it was a quite old-fashioned production, very beautiful and very magical for kids like me. The music was absolutely dazzling, something completely new for me. Of course I did not decide to become an opera singer at this day but when I think about the beginnings nowadays I always remember this moment when I was on stage as a kid and I experienced the smell of the stage and the sound of the orchestra getting tuned. All these magical moments made me really excited.
You were a member of the international opera studio in Zurich. How did this shape you as a singer?
I was a member of the opera studio in Zurich for one year and afterwards I was in the ensemble for four years. Even though I am travelling a lot now I kept my base in Zurich. Thanks to opera studio I had the opportunities to get to know many people. At the time Alexander Pereira in Zurich hosted a lot of stars like Piotr Beczala, Jonas Kaufmann, Vittorio Grigolo, Camarena, Hampson and Bartoli. All these great singers where residents in Zurich while I was in the studio. Of course my chances to sing demanding roles were very difficult then but it allowed me to take these artists as examples, to work with them, to be on stage with them and also to dream about being at their level one day.
What are your plans for the future? Is there a role you would like to sing that you have not sung yet?
There are several roles which I would like to sing in the future. One for next season is Des Grieux in »Manon« by Massenet which is one of my favorite roles. I am also looking forward to further exploring the French repertoire. I can sing in many different languages but French is my mother tongue. So coming soon are for example Hoffmann in »Les contes d'Hoffmann« and Roméo in Gounod's »Roméo et Juliette«.
The interview was held by Leonie Stumpfögger and Katharina Langels.